Back to Brands
e18M
RIZON is a commercial electric truck brand developed and manufactured by the Daimler Truck Group. Our fully electric medium-duty trucks are designed on customer feedback for practical real-world business needs. Developed and built in-house from the ground up, RIZON is setting a new standard in Class 4-5 commercial electric vehicles and is sold exclusively through Velocity Truck Centers. Our proven knowledge of the commercial electric vehicle marketplace can help you navigate the integration of eMobility solutions into your business operations. The RIZON dealer network offers a comprehensive suite of services including eConsulting guidance, infrastructure planning, fleet management systems integration, battery life-cycle management and end-of-life disposition.
Ask an expert
View Inventory
No noise, no fumes, no limits.
Silent, smooth, and safe, RIZON trucks deliver peace of mind, while minimal maintenance ensures they stay where your business needs them most - on the road.
A clean slate for a cleaner world.
The RIZON truck chassis is thoughtfully engineered. Suitable for a variety of body configurations and applications, it can meet the specific demands of your business and the electric truck market.
Easy access to inner peace.
RIZON trucks' modern interior was designed to keep drivers comfortable so they can stay focused on the job at hand. Drive Controls - Integrated steering wheel controls link to audio and phone system and the 7-inch digital instrument cluster. Multifunction Display - Touchscreen navigation and seamless Bluetooth®-compatible phone and audio system integration. Heated Features - Optimizes driver comfort with soothing heat in driver's seat, the steering wheel and windshield.
Powerful Battery Packs
Multiple battery pack configurations to tailor the power and torque for the job or application.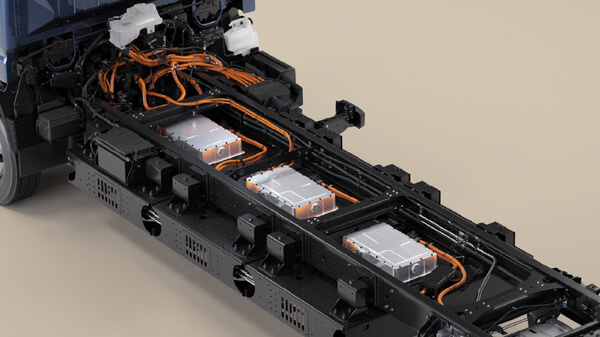 100% Electric eAxle
eAxle features a simple and innovative design combining electric motor, gearbox and axle in one.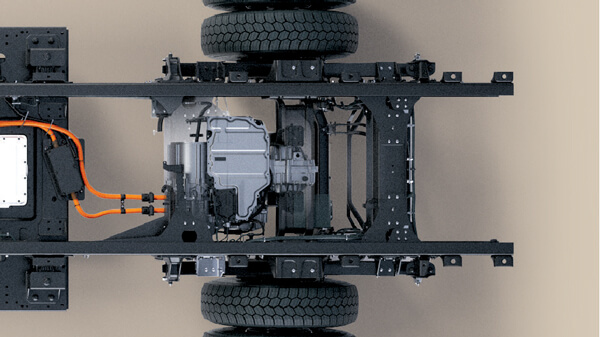 AC/DC Charging Socket
All vehicles offer both AC charging with a J1772 connector and DC charging with CCS1 port standard.
Beverage
Cargo Van
Dry Van
Dump Truck
Pick Up & Delivery
Refrigerated Trucks
Utility
Engine Make :
Engine Model : All Electric
Fuel Type : Electric
Class : 4, 5
GVWR :
Cabin Type : Cargo Van, Chassis Only, Day Cab
Duty Type : Medium Duty
Quick Notes:

Class 7/8 • 91,000
GVW • 260 to 450HP
Download Brochure