VVG AU completes Daimler Huntingwood purchase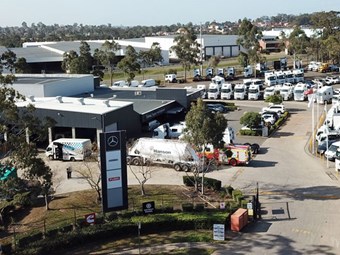 Velocity Vehicle Group Australia hails 'exciting' business
Velocity Vehicle Group Australia (VVGA) has completed of the transaction to acquire the Daimler Trucks Huntingwood dealership from Daimler Truck and Bus Australia Pacific.
Daimler Trucks Huntingwood is located in one of the main transport and distribution regions in western Sydney and has a strong reputation and presence within the industry, VVG notes.
Its location, culture and customer base make it an important and complementary addition to VVG's Australian network.
"We are excited to have Daimler Trucks Huntingwood join the VVGA family VVG Australia executive vice president Richard Higgins says.
"The dealership has a 30-year-plus history of providing exceptional support to a large and diverse customer base.
"The experienced and dedicated team of circa 125 people are an important and a welcome addition to the VVGA network.
"The team have been leaders in Daimler's Elite Support program which complements the VVGA pillars of Speed, Value and Trust. "With our focus on these values we aim to continue to grow and develop Huntingwood along with our ability to provide service that meets the ongoing needs of our customers."

VVG Australia operates 15 other dealership locations across Australia, and exclusively sells Daimler truck, bus and van products across its network. VVG Australia purchased the dealerships from Eagers Automotive in May. "We are committed to growing the Daimler truck and bus brand and delivering leading customer service," founders and co-presidents of VVG Conan Barker and Brad Fauvre says. "Daimler Trucks Huntingwood will be an important part of the strategy and we welcome the team into the VVG Australia family.
"We want to thank Daimler Truck and Bus Australia Pacific team for working alongside us to finalise this transaction and we look forward to continuing to strengthen our relationship with Daimler." VVGA's entry into Australia was very much a meeting of minds between the two companies and Daimler made no secret of that at the time and reinforced the sentiment with this closure.
"VVG Australia knows what good customer service looks like and understands the expectations of commercial vehicle customers," Daimler Truck and Bus Australia Pacific aftersales and network operations director Greg Lovrich says. "We are confident Daimler Trucks Huntingwood customers will benefit from VVG's commitment to build capabilities across its network to ensure it can consistently deliver an excellent experience." Daimler Truck and Bus Australia Pacific president and CEO Daniel Whitehead echoed the statement.
"We are confident Daimler Trucks Huntingwood is in safe hands with VVG and look forward to continuing to work with the team to grow and develop the business," Whitehead says.