VELOCITY TRUCK CENTERS COMPLETES ACQUISITION OF CHRISTOPHER TRUCKS - May 3rd, 2022.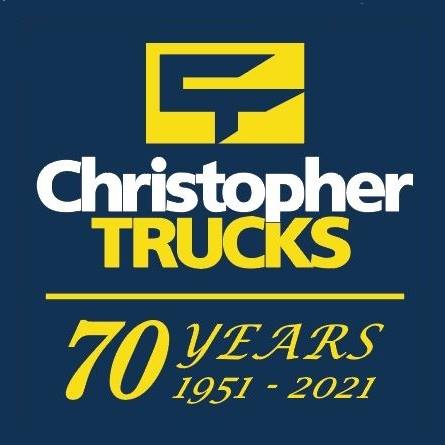 Velocity Truck Centers (VTC) announced today that the company has further expanded into the Southeast US with the acquisition of Christopher Trucks. The acquisition of Christopher Trucks brings the fast growing Greenville and Spartanburg areas of South Carolina into the VTC network. With the nine locations in North Carolina and the two locations in South Carolina, the addition of Christopher Trucks' two locations establishes VTC as the most comprehensive network in the Carolinas with more locations than any other dealer network.
Today, VTC has 64 locations across North America, including 11 body shops, and offers coast-to-coast coverage of commercial vehicle sales, service, parts, collision and fabrication services as well as equipment financing. VTC brings unparalleled customer focus, including two hour Express Assessment, Elite Support Certification and equipment financing through its Crossroads Equipment Lease and Finance division to all the Christopher Trucks markets in South Carolina.
Co-Presidents of VTC, Brad Fauvre and Conan Barker said, "We are pleased to add Christopher Trucks to what is now the most comprehensive sales, service and support network in North and South Carolina. It has been a pleasure to work with owner Scott Christopher through this process. And we are very pleased to welcome fourth generation leader Stuart Christopher into Velocity as a branch manager. The continuity of Christopher leadership will ensure the highest possible service and quality the community has come to depend on from Christopher Trucks."
Christopher Trucks owner Scott Christopher added, "In 1951 my grandfather, McAdams Christopher founded Christopher Trucks with focus on outstanding service. I had the privilege to work with my father McAdams Christopher Jr. until his retirement in 1993 when I acquired the dealership. The success of Christopher Trucks has been built by the long-term dedication of our ownership and our employees to the highest level of service for our customers. Many of our team members have tenure of over 25 years. I'm pleased that the legacy of service that began over 70 years ago will continue into a great future with VTC. Our South Carolina customers will continue to enjoy outstanding products and services provided by our valuable employees as part of the VTC network."
Velocity Truck Centers, a part of the Velocity Vehicle Group (VVG), operates 64 commercial vehicle dealership locations in the US across California, Arizona, Nevada, Tennessee, Kentucky, North Carolina, South Carolina, Alabama and Hawaii. VVG also operates 17 Daimler dealerships across Australia, as well as 8 locations in Baja, Mexico. VTC provides new & used commercial vehicle sales, including the full spectrum from pickup trucks to delivery vans to 18-wheelers and school busses, as well as aftermarket parts and service support, along with a multitude of other vehicle-related services. VTC is an authorized dealer for the Freightliner, Western Star, Autocar, Ford, Fuso, Thomas Built Buses, Sprinter, Isuzu, Hino Trucks, SportTruck, Renegade RV, Rosenbauer fire, Crane Carrier and Freightliner Custom Chassis vehicle brands and Great Dane trailers. VVG also offers equipment financing through its Crossroads Equipment Lease and Finance subsidiary, as well as small business and SBA loans through Velocity SBA and truck rental and leasing through Velocity Truck Rental and Leasing.