New Freightliner EconicSD Waste Collection Truck Unveiled at WasteExpo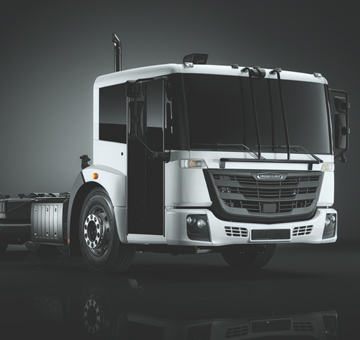 04/24/2018
Contact: Jennifer.Edwards@Daimler.com or Katja.Bott@Daimler.com
The Freightliner EconicSD is an innovative, low-entry COE waste collection truck.
Equipped with the new Detroit DD8 mid-range engine and the Detroit Assurance suite of safety systems, the Freightliner EconicSD is a customer-centric solution with productivity, safety and uptime at its foundation.
The Freightliner EconicSD will be available to order starting in the summer of 2018.
The Freightliner EconicSD leverages the global engineering expertise of parent company Daimler AG to bring this vehicle to North America.
LAS VEGAS – (April 24, 2018) – Freightliner Trucks today introduced the new Freightliner® EconicSD™ waste collection truck at WasteExpo. The Freightliner EconicSD is a modern, low-entry cab-over-engine (COE) waste collection truck for the North American market that provides superior safety, uptime and productivity. Freightliner Trucks is featuring the Freightliner EconicSD in booth #2617 at WasteExpo.
The ISX12N meets the California Air Resources Board Low NOx standard of 0.02g/bhb-hr, a 90 percent reduction from engines operating at current U.S. Environmental Protection Agency (EPA) NOx limit of 0.2 g/bhb-hr.
"By working closely with our North American waste collection customers and analyzing how we could provide a solution that best benefits their businesses, we recognized the opportunity to adapt the Freightliner EconicSD for this market," said Roger Nielsen, president and CEO for Daimler Trucks North America. "Our customers continually seek to elevate the safety and performance of their waste collection vehicles, and the Freightliner EconicSD is the right solution for the distinct needs of this segment."
The cab and chassis are designed and manufactured in Woerth, Germany – Daimler's largest truck plant. More than 125 modifications were made to optimize the truck for North American operations. Final assembly of the cab and chassis will be completed in Gaffney, S.C., at the Freightliner Custom Chassis Corporation (FCCC) manufacturing facility.
Freightliner Trucks also partnered with Heil Environmental and McNeilus Truck & Manufacturing, two of the leading truck equipment manufacturers (TEMs) in the waste collection industry, to ensure the Freightliner EconicSD is ideal for the North American market.
"The cab-over-engine design for the North American waste collection market is a unique concept, so collaborating with Heil and McNeilus was critical to ensure a streamlined upfit process and efficiencies from the very beginning," said Richard Howard, senior vice president, sales and marketing for Daimler Trucks North America.
Powered by Detroit
Equipped with the new Detroit™ DD8™ mid-range engine, the Freightliner EconicSD is built for productivity. With a rating of 350HP and 1050 lb-ft torque, the DD8 has best-in-class maintenance intervals that are up to three times longer than the competition. Ideal for the waste collection market, the DD8's variable exhaust cam phasing optimizes exhaust temperatures during low-load operations for more efficient aftertreatment performance.
The DD8 also features Detroit™ Connect Virtual TechnicianSM remote diagnostic service for maximized uptime and productivity.
"The robust design and the technological achievements found with the DD8 engine make it well suited for the demands associated with waste collection," noted Jeff Allen, senior vice president, operations and specialty vehicles for Daimler Trucks North America. "The Freightliner EconicSD and the DD8 make a durable and efficient combination."
Unparalleled Safety
"Waste collection vehicles need to navigate tight turns, busy urban streets and suburban neighborhoods, so safety is a critical concern at all times," said Allen.
The Freightliner EconicSD is engineered to enhance the safety of not only the driver and crew, but also pedestrians and drivers of other vehicles. The truck's panoramic windshield and low seating position provide outstanding visibility, while the mirror system offers an expanded field of vision for work areas and potential blind spots. The short wheelbase and aggressive wheel cut deliver superior maneuverability.
Further contributing to the Freightliner EconicSD's safety is the Detroit Assurance® suite of safety systems. The Freightliner EconicSD comes standard with active brake assist, adaptive cruise control and lane departure warning to mitigate potential collisions. Optional safety features include side guard assist and a built-in camera system with 360-degree views displayed on a flat screen dash monitor.
Designed for the Driver
The Freightliner EconicSD's low entry means only one step is needed to enter the cab, with just one more step to the driver's platform. The first step is only 19 inches, half the first-step height of many conventional waste collection trucks. A kneeling feature further reduces step-in height, while a lifting feature improves clearance over objects.
"Waste collection vehicle drivers and passengers are in and out of their trucks all day. The Freightliner EconicSD's ergonomic design reduces fatigue and provides a more comfortable and productive work environment," said Allen.
The spacious cab has an air-suspended driver's seat, with additional single seating to accommodate up to three passengers in the high cab model. The Freightliner EconicSD comes standard with digitized instrument cluster that displays key information on an LCD screen on the dash, and is operated by intuitive steering wheel controls.
"Inside and out, every aspect of the Freightliner EconicSD is designed with the customer in mind. We understand what impacts their bottom lines, and as their partners we are driven to create solutions that contribute to their long-term success," said Howard. "The Freightliner EconicSD is an exceptional solution that we are proud to bring to the North American waste collection market."
The Freightliner EconicSD will be available to start ordering in the summer of 2018. Cab configurations for the EconicSD in 6x4, high cab and low cab, and rear and side loader configurations will be available.
The Freightliner EconicSD was adapted from the Mercedes-Benz Econic, a low-entry COE chassis that is popular with waste collection customers in Europe, Australia and Asia. To learn more, go to Freightliner Trucks booth #2617 at WasteExpo or go to www.freightliner.com.
About Freightliner Trucks
Freightliner Trucks is a division of Daimler Trucks North America LLC, headquartered in Portland, Oregon, and is the leading heavy-duty truck manufacturer in North America. Daimler Trucks North America produces and markets Class 5–8 trucks and is a Daimler company, the world's leading commercial vehicle manufacturer.