ISUZU INTRODUCES ITS FIRST ELECTRIC TRUCK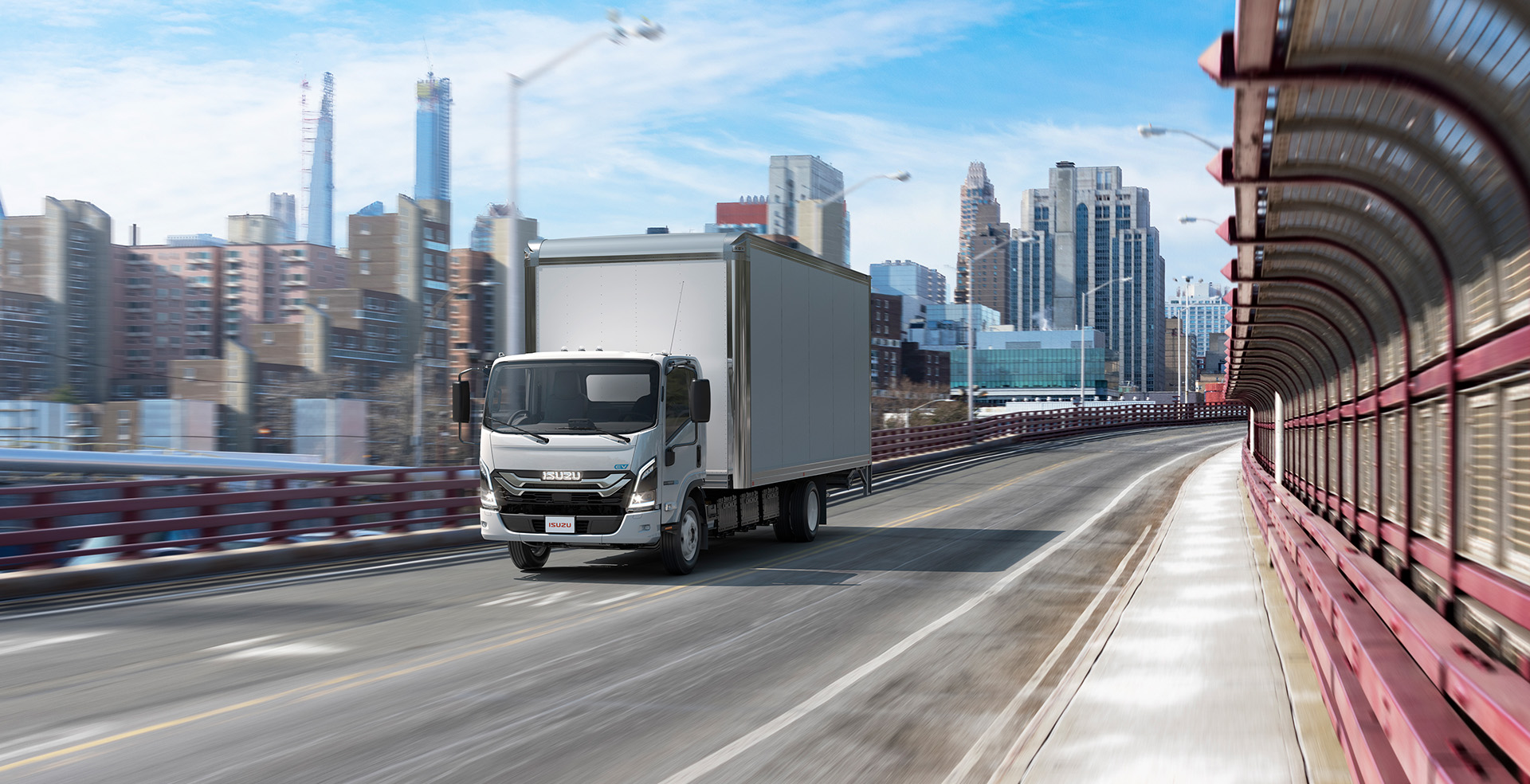 N-Series EV to Be Available in First Half of 2024; Will Offer Class 5 Capability on a Platform Developed
INDIANAPOLIS, Ind.— Isuzu Commercial Truck of America, Inc., distributor of America's best-selling low cab forward trucks, today announced its first all-electric production model, the N-Series EV. The 2025-model-year Class 5 truck—featuring a full 19,500-pound gross vehicle weight rating, a battery electric platform developed by Isuzu Motors Limited, and an all-new cab design—will be available in the first half of 2024. Isuzu Commercial Truck introduced the breakthrough model during the National Truck Equipment Association's Work Truck Week 2023 trade show here.
"The N-Series EV is a game-changer, not only for us, but for our dealers and our customers," said Shaun C. Skinner, president, Isuzu Commercial Truck of America and Isuzu Commercial Truck of Canada. "We have always prided ourselves on offering a variety of powertrains to meet the needs of our owners. As we look at the regulatory landscape ahead of us, we know that the demand for a medium-duty truck powered by electricity is going to increase dramatically. And we will be ready, with the first electric production Class 5 low cab forward truck in the U.S. and Canadian marketplace."
The N-Series EV will also be available in Japan, where it was announced earlier today. This marks the first time that a new Isuzu model has been introduced simultaneously in three markets Japan, The United States, and Canada.
Among the notable features of the 2025 NRR EV:
• A full 19,500-pound GVWR to handle your tough Class 5 demands
• Wheelbases ranging from 132.5 to 176 inches to accommodate a variety of body lengths
• Standard Cab Design
• Four choices of battery capacity, the largest of which has a range up to 235 miles*
• DC Fast Charging and AC (Level 2) charging capability
• An optional Advanced Driver Assistance System package designed to improve driver, passenger and pedestrian safety and to help reduce the number and severity of collisions
• A new cab, inside and out, engineered from the ground up to increase driver safety and comfort

The truck is scheduled to be assembled in the United States for sale in the U.S. and Canadian markets.
* All figures are calculated estimates and based on a fully charged battery. For comparison purposes only. Battery capacity decreases with time and use. Actual range will vary based on a number of factors, including number of battery packs, vehicle options, driving conditions and habits, vehicle and battery's condition and outside temperature.

Stay tuned to Velocity Truck Centers and VVGElectric.com for more information coming soon.